3 Ways the GFF Partnership Empowers Women and Girls
International Women's Day is a great opportunity to reflect on the tremendous accomplishments of women  all over the world and to commemorate the 25th Anniversary of the International Conference on Population and Development in Nairobi, Kenya.
We, at the Global Financing Facility (GFF), are also celebrating the less well known heroines that are fighting for the sexual and reproductive health and rights of women and girls. One of these heroines is Mama Beatrice, a seasoned midwife and matron of a health center in Kwango province in the Democratic Republic of Congo (DRC). In DRC, three women out of every 100 will die in the course of pregnancy and childbirth and forty percent of women have an unmet need for modern methods of contraception leading to more than 1.8 million unintended pregnancies annually. Nearly one third of all births in the rural areas in DRC occur among adolescent girls. 
With the support of the Government of DRC in partnership with the GFF, the World Bank and other development partners, Beatrice has managed to create a bright, clean hospital, with an improved water source, new delivery beds and baby scales. She provides crisp uniforms for her staff and custom gowns for her patients because she believes that all women have a right to dignity in childbirth and that her staff deserve to work in a safe and professional setting. Mama Beatrice is equally committed to offering her clients modern methods of contraception to help them meet their desired family size. If you spoke to her, she would proudly note that her hospital has not experienced a maternal death in the last three years.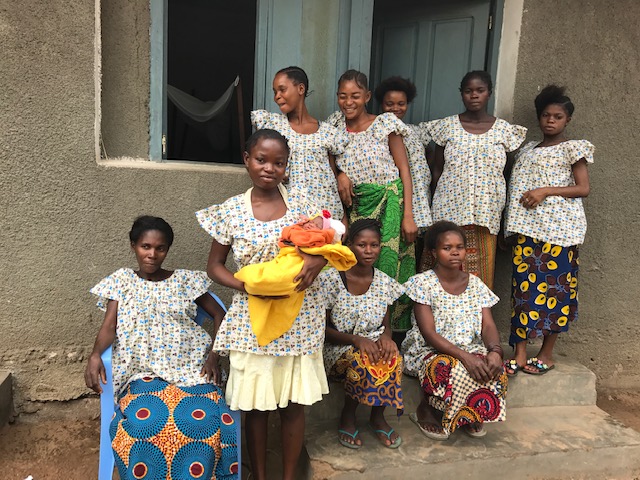 Kwango maternity ward, DRC
While every country has scores of dedicated healthcare workers like Beatrice, it is also true that each year more than 5-million women and children under-5 die from preventable causes. Even when women have access to healthcare services, they often find health systems that are unresponsive to their needs or worse. A recent study in the Lancet found that women in a sample of health systems in low and lower-middle income countries experience systemic abuse, stigma, and disrespect during child birth. To add to this, an unprecedented global campaign by the White Ribbon Alliance that listened to the powerful voices of 1.2 million women revealed that they need respectful reproductive and maternity care, in clean, well-stocked facilities.
To respond to these challenges, the GFF supports country-led efforts to empower and improve the health status of women and girls. Recognizing that women and girls' health, rights, and wellbeing is directly affected by their economic, legal, and cultural context the GFF works with countries in three ways:
Prioritizing interventions that meet the needs and rights of women and girls. The GFF supports countries to prioritize activities that are explicitly linked to sexual and reproductive health and rights for women and girls. This includes increasing access to services like family planning and expanding the quality and choice of modern contraceptives available. The GFF also supports implementation of community-based programs that seek to change social and behavioral norms to increase demand for quality sexual and reproductive health services and empower women and girls to decide whether and when to have children and how many children to have. For example, in Bangladesh this is being achieved through investments in education, in DRC through specific community interventions, and in Nigeria through engaging religious groups. Lastly, the GFF assists countries to prioritize health financing and system reforms for sustaining investment in high-quality interventions.
Focusing on equity to reach the most vulnerable women and girls. Gender inequality is often amplified by poverty and other forms of marginalization. Poor women are much less likely to access skilled birth attendance, family planning, and other essential services. They are also likely to receive poorer quality care when they do access health services. This is why the GFF supports a process that uses equity as a guiding principle and uses data to shed light on geographies and the most vulnerable and marginalized women and girls that bear disproportionate health burden or receive too small a share of health investment. For example, the government of Mozambique works with the GFF to increase financing to underserved districts while Cameroon focuses on high-burden regions. Another example is Kenya where scholarships are provided for community health nurses coming from historically marginalized communities.
Investing in gender responsive data systems. The GFF also supports countries in the development of gender-responsive data systems to help track progress on priorities and commitments. For example, progress in girls' and women's sexual and reproductive health and rights requires advancement in the data systems that underpin public service delivery. Birth and marriage registration systems contribute to efforts to combat child marriage, a critical gender equality issue, and one that is directly linked to early pregnancies and childbearing and a host of poor maternal and child health and nutrition outcomes.
The GFF is committed to work in partnership with the World Bank and others to redouble efforts in these areas, leverage the opportunities across sectors and broaden the scope of potential investments to cover women and girls' health, rights and well-being.
This year, the global community will commemorate the twenty-fifth anniversary of the Fourth World Conference on Women and adoption of the Beijing Declaration and Platform for Action (1995). We look forward to participating in the Generation Equality Forums hosted by Mexico and France, which will bring together the key priorities and recommendations from partners and activists around the world to make 2020 a transformative year for gender equality. Amidst these high-level convenings and their critically important political commitments, we will be thinking about champions like Mama Beatrice who are on the front lines fighting for the rights, wellbeing, and equality of the world's women and girls.