A Lives Saved Report published today in The BMJ Global Health shows the collective resource mobilization power of the Global Financing Facility partnership to:
Prevent as many as 34.7 million women, children, and adolescents from dying
Prevent 275 million cases of stunting
Reduce maternal mortality rates by 32%
Reduce under-five mortality rates by 34%-35%
Reduce neonatal mortality by 34%,
Reduce the number of stillbirths by 32%-33%
WASHINGTON, DC – The BMJ Global Health today published the study Pushing the envelope through the Global Financing Facility for women, children and adolescents in 50 high-burden countries, which projects that as many as 35 million lives can be saved if the GFF partnership[i] extends its reach to 50 countries with the highest burden of preventable deaths of women, children, and adolescents. The study, published with contributions from Avenir Group, the Bill & Melinda Gates Foundation, Cambridge Economic Policy Associates, the GFF and Johns Hopkins University, finds[ii] that US$2.6 billion of GFF Trust Fund resources would:
"…collectively mobilize US$50-75 billion of additional funds for expanding delivery of life-saving health and nutrition interventions to reach coverage of at least 70% for most interventions by 2030. This could avert 34.7 million deaths—including preventable deaths of mothers, newborns, children, and stillbirths—compared to flatlined coverage [iii], or 12.4 million deaths compared to continuation of historic trends[iv]. Under-five and neonatal mortality rates are estimated to decrease by 35% and 34% respectively and stillbirths by 33%."
The GFF partnership has an opportunity now to support countries to accelerate progress on universal health coverage to save up to 35 million lives by 2030. This includes the collective efforts of all GFF partners supporting country leadership to ensure that economic growth translates into more and more efficient use of public resources for health and nutrition. The estimated lives saved of this study reflect the combined efforts that contribute to bending the curve on maternal, newborn and child mortality rates, including Gavi, the Vaccine Alliance; the Global Fund to Fight AIDS, Tuberculosis and Malaria; UNAIDS; and FP2020 contributions.
With more than five million women and children dying every year from preventable causes, in large part due to a persistent and chronic underinvestment in quality, basic health and nutrition services, a radical change is required if countries are to take charge of their demographic future, reduce their reliance on external aid, build a healthy, working population, grow economies, and increase GDP. The GFF was founded in 2015 by the World Bank, Canada, Norway the United Nations and other partners, to help meet that challenge. As a pathfinder for innovative financing of the Sustainable Development Goals it is helping to address the unfinished agenda of women, children and adolescent health and nutrition and to close the financing gap.
"For too long, the world's poorest have been left behind, persistently underinvested in and deprioritized. We can change that—not only saving millions of lives, but dramatically improving the lives of many more women, children and adolescents, and helping countries to significantly improve their economic prospects," said Mariam Claeson, Director of the GFF.
The GFF partnership is working with the government of Nigeria to improve and expand primary health care services throughout the country.
"The Government of Nigeria is committed to ensuring that all Nigerians—particularly the women, children and adolescents facing some of the most challenging circumstances, in the most challenging places—have access to the basic health and nutrition services that they need, without becoming poorer by paying for them," said Professor Isaac F. Adewole, Minister of Health of Nigeria. "The Global Financing Facility has created a new sense of awareness that we must put our money on the table for these essential investments in our people, and use them in even smarter ways—and that is something that hasn't been done before."
Today's report in The BMJ Global Health quantifies the impact that the GFF partnership can have if it is able to raise the US$2 billion in GFF Trust Funds through its replenishment, to expand its support from 27 to all 50 countries with the greatest need. On November 6, 2018, the Governments of Norway and Burkina Faso, the World Bank Group, and the Bill & Melinda Gates Foundation will co-host an event in Oslo, Norway to galvanize support for the replenishment.
"As countries continue their health financing transitions, it is key to ensure that resources generated by economic growth are used effectively—including directing more towards targeted priority health and nutrition areas. The plans of the GFF and its partners to facilitate these evolutionary changes in resource allocation could result in millions of lives being saved," said Tom Cochrane of Cambridge Economic Policy Associates, London, UK.
"Through the GFF there is a significant opportunity to plug the current gaps in essential care, and to not miss opportunities to administer critical interventions across the full spectrum of health needs of mothers and children. The global community has been very successful supporting programs that concentrate on specific interventions to fight diseases or particular health issues. What the GFF partnership brings is a way to support countries to build from that base an overall system that fits their needs. This approach will continue to transform health systems and save millions of lives in the years ahead," said Neff Walker, Johns Hopkins Bloomberg School of Public Health, USA.
A large proportion (approx. 70%) of the additional US$50 billion-US$75 billion funds for reproductive, maternal, newborn, child, adolesent, health and nutrition (RMNCAH-N) interventions would be mobilized from domestic resources—with governments significantly increasing their own commitments to health and nutrition financing over the long term.
Total funds catalyzed through a fully financed GFF Trust Fund would include an estimated:
US$36.8 billion – US$51.1 billion of increased domestic resources for health and nutrition throughout the 50 countries
US$12.9 billion – $18.5 billion of development assistance for reproductive, maternal, newborn, child and adolescent health and nutrition (including IDA/IBRD, bilateral and multilateral financing)
US$4.5 billion – US$11.1 billion of efficiency gains (money better spent for improved health and nutrition)
Reduction in out-of-pocket expenditure by US$4.1 billion – US$5.8 billion (protection of out-of-pocket expenditure to reduce impoverishment caused by medical cost of illness)
The private sector is considered an integral component of each of the above, and additional private sector capital is expected to be mobilized with the GFF.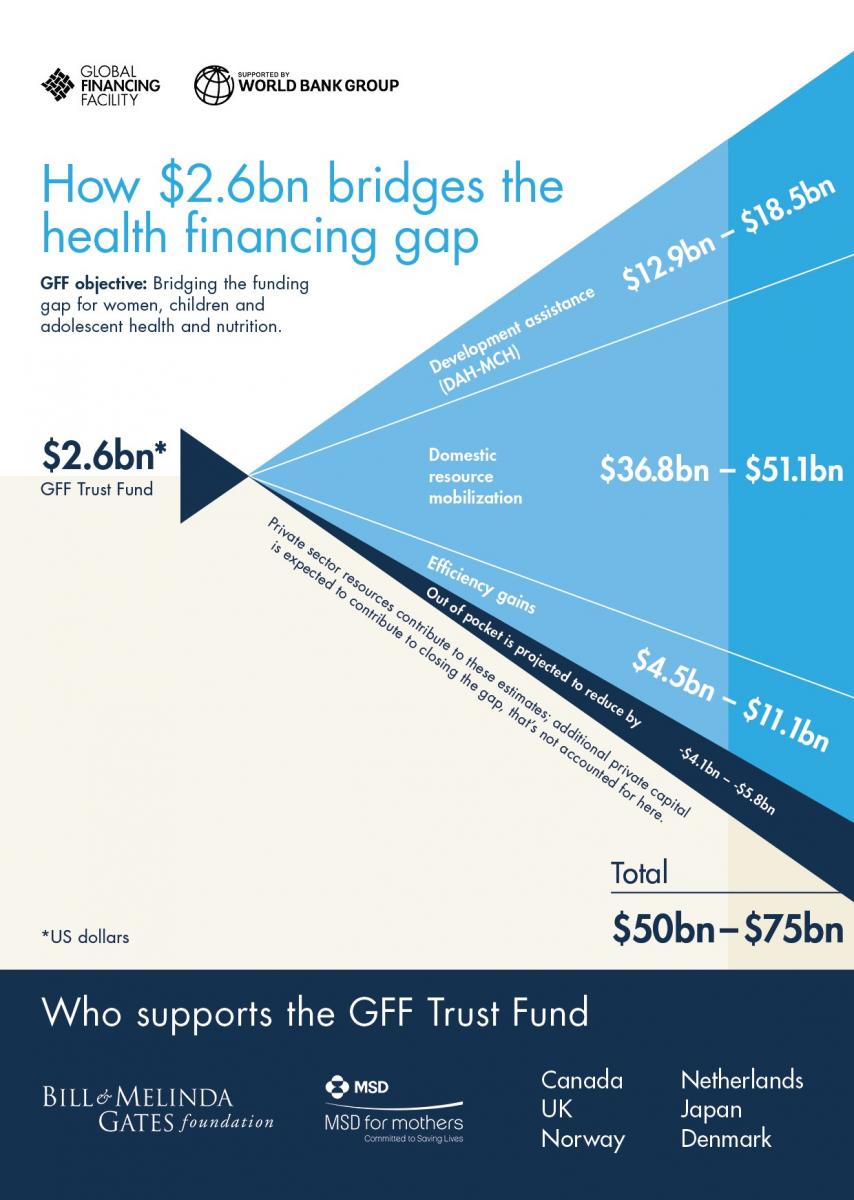 The GFF 1) establishes a country-led platform to ensure country ownership and leadership; (2) develops an investment case and implementation plan prioritizing reproductive, maternal, newborn, child and adolescent health and nutrition and improving efficiency; and (3) works with countries to mobilize the financial resources to accelerate progress on universal health coverage and to scale and sustainably finance health and nutrition.
RMNCAH-N—including greater access to family planning methods, increased quality and coverage of antenatal and postnatal care, nutrition programs, vaccinations and education. These intervenions form the backbone of essential primary health care services and are the foundation of a healthy society.
The GFF uses small amounts of Trust Fund money to draw in increased financing for health and nutrition—with countries increasing domestic resources, aligning external and concessional financing, and leveraging the private sector. The GFF also establishes innovative financing mechanisms to widen the pool of financing that countries can draw on, and making that money more affordable for countries to use.
---