We as a global community have made considerable progress over the past 25 years in improving the health and well-being of women, children, and adolescents. Rates of preventable death have dropped significantly in many countries and improvements have been seen across a range of key measures of health and well-being. But the progress has not been enough: too many women, children, and adolescents have been left behind, dying and suffering from preventable conditions, in considerable part because of a large financing gap, estimated at US$33 billion annually.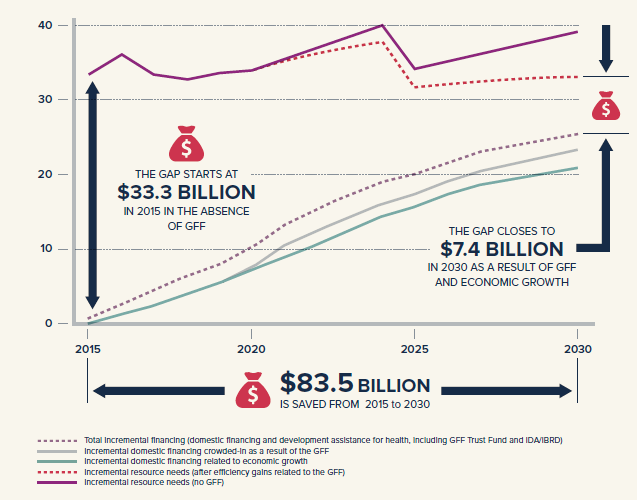 We know where we want to go: the Sustainable Development Goals (SDGs) set the direction and the results that we want to achieve. We have the technical knowledge of what works to get us there. And now we have a financing mechanism that will enable us to close the funding gap.
The Global Financing Facility in Support of Every Woman Every Child (GFF) was launched at the Financing for Development Conference in Addis Ababa in July 2015 as part of a global conversation about how to finance the SDGs, which requires a shift from thinking about billions of dollars to recognizing that we need trillions to achieve the ambitious targets that we have agreed upon. This shift is only possible through new approaches to financing that recognize that countries themselves are the engines of progress and that the role of external assistance is to support countries both to get more results from the existing resources and to increase the total volume of financing.
Over the past two years, the GFF has created a new model with countries in the driver's seat that brings together multiple sources of financing in a synergistic way to support national priorities. A key element of this model is drawing on the other sectors that influence health and nutrition outcomes, such as education, water and sanitation, and social protection.
The GFF supports countries to get on a trajectory to achieve the SDGs by:
Strengthening dialogue among key stakeholders under the leadership of governments and supporting the identification of a clear set of priority results that all partners commit their resources to achieving;
Getting more results from existing resources and increasing the total volume of financing from four sources:
Strengthening systems to track progress, learn, and course-correct.
The GFF is seizing the opportunity to change the course of financing for the SDGs and improve the lives of millions of women, children, and adolescents across the world.