The GFF is a "financing facility," not a new fund that provides development assistance to deliver goods and services, but a mechanism that uses modest amounts of grant resources catalytically, bringing programs to scale by leveraging far greater sums of domestic government resources, IDA and IBRD financing, aligned external financing, and resources from the private sector.
The GFF approach emphasizes smart financing, getting more value for money from each of these sources by improving efficiency. With this approach, in many countries it will not be necessary to provide grant financing in perpetuity because these other financing sources enable the countries to reduce their reliance on external assistance and to progressively replace it as the financing source needed to improve the health of women, children, and adolescents.
This new model for sustainable financing is at the heart of what makes the GFF an exciting pathfinder for a new era of financing for development. The GFF was established to close the financing gap for reproductive, maternal, newborn, child, and adolescent health and nutrition, but it is not sufficient solely to generate additional funding; these resources must be focused on achieving results. The GFF approach is grounded in the goals that countries have already set for themselves: the SDGs.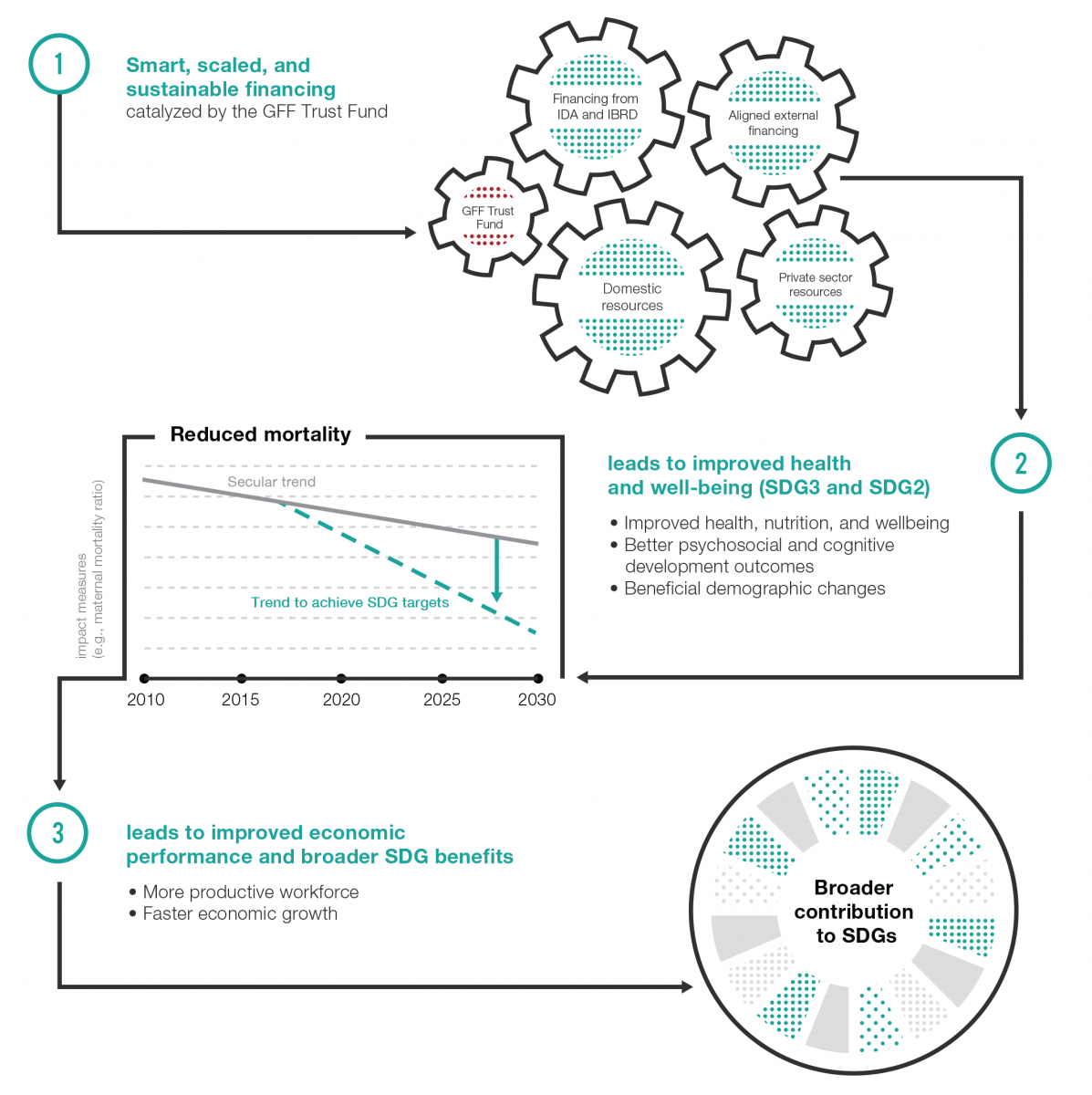 There is no one-size-fits-all approach to the SDGs: countries choose a variety of paths toward these targets. The GFF process supports countries to identify an evidence-based set of priority investments to help "bend the curve" to accelerate progress and to get on a trajectory toward achieving the SDGs (the Investment Case). These investments include interventions that specifically address key reproductive, maternal, newborn, child, and adolescent health and nutrition challenges; the health systems strengthening required to deliver health services (such as human resources for health, supply chain management, or information systems); and multisectoral approaches to improve health and nutrition outcomes through sectors such as education, water and sanitation, and social protection.
Countries own the GFF process, with a wide set of stakeholders coming together under government leadership to identify the results they want to achieve and ultimately to provide the financing to achieve them. To support the countries, a multidonor trust fund—the GFF Trust Fund—has been established at the World Bank Group to be a catalyst for this process.

The GFF Trust Fund provides flexible financing for the preparatory work and technical assistance required to identify priorities, supports the process of bringing partners together, and makes modest grants to address key bottlenecks. The GFF Trust Fund is not intended to fill the financing gap on its own but rather to crowd in additional resources from the broader set of partners that are part of the facility and to ensure that the available resources are aligned and working smoothly together. As a result, each dollar invested in the trust fund is multiplied many times over, ultimately closing the financing gap.
Documents
---
GFF BUSINESS PLAN
English | PDF | 1.37MB
French | PDF | 2.06MB
GFF BUSINESS PLAN: EXECUTIVE SUMMARY
English | PDF | 0.2MB
French | PDF | 0.2MB
---
FAQ
English | PDF | 0.78MB
French | PDF | 0.76MB
---