Reaching Those Left Furthest Behind First
Every year, in 50 countries across the world more than 5 million mothers, children, and adolescents die from mostly preventable conditions, and the economies of these countries lose billions of dollars to poor health and nutrition as well. It is therefore urgent to accelerate progress on universal health coverage and to contribute to the achievement of the Sustainable Development Goal (SDG) of ending preventable maternal, newborn, and child deaths and improving the health and nutrition of women, children and adolescents by 2030.
The Global Financing Facility (GFF) in Support of Every Woman Every Child was established in 2015 as an innovative financing mechanism to close the financing gap that is required to eliminate preventable deaths of mothers, newborn, and children by 2030 as well as improving the health and well-being of women, children, and adolescents. In countries, efforts are being made to identify and increase coverage of high-impact RMNCAH-N interventions and to tackle critical system bottlenecks to achieving impact at scale. A comparative advantage of the GFF approach is that it goes beyond a focus on specific interventions and disease-specific approaches to focus on outcomes at the critical stages of the life cycle: pregnancy, birth, the early years, and adolescence. GFF helps countries build more resilient primary health care services and community health systems, reaching those left furthest behind—at the frontlines first.
The GFF approach is guided by two key principles: country ownership and equity. The GFF applies income and gender equity perspectives in priority setting, which steers resources into previously neglected geographic regions, including fragile countries and settings, and prioritizes people and interventions that have usually not received sufficient funding, such as adolescent girls and sexual and reproductive health and rights and nutrition.
Countries in the Lead
The GFF empowers countries by investing in existing institutions, and helps countries to bring together key multilateral stakeholders around the country platform—including the United Nations , the World Health Organization , Gavi (the Vaccine Alliance), and the Global Fund to Fight AIDS, Tuberculosis and Malaria(hereafter, the Global Fund), as well as bilateral, private-sector, and civil society partners.
The GFF strives to enable partners and stakeholders to identify their comparative advantages, avoiding duplication and reducing gaps by supporting the government to bring all key stakeholders together to develop and implement a single country-led investment case based on the specific needs of the country. A forum or committee under government leadership brings together the broad set of partners involved in RMNCAH-N, including different parts of the government, civil society, the private sector, and development partners. Where available, the GFF supports the existing multistakeholder platform and processes, to avoid duplication.
Investment cases identify not only priority interventions to achieve agreed results, but the most significant health system bottlenecks that
need to be addressed to deliver them. Such bottlenecks may be in governance, in the health workforce, in the financing operations, in supply chain management, or in information systems, including civil registration and vital statistics. Investment cases also consider the extent to which targeted investments in different sectors—such as education, water and sanitation, and social protection—might have a significant impact on women's, children's, and adolescents' health and nutrition outcomes. The investment case for each country covers three to five years, but it is developed with a long-term perspective. That is, it emphasizes the priority obstacles that must be overcome to get a country onto the trajectory needed to reach the health-related SDG targets by 2030.
The GFF Trust Fund supports each country in mapping resources and aligning funders around the investment case and in identifying the key health financing reforms it needs to make to mobilize its domestic resources. It also collaborates in expenditure tracking. GFF-supported countries have their own South-South learning network, sharing successes and failures in real time and learning from each other to accelerate results.
Private Sector
The role of the private sector is key in the value proposition of the GFF, and effective private sector engagement is essential to reach the GFF objectives by 2030.
The GFF as a financing and operational platform is well-placed to design and launch innovative financing mechanisms, leveraging expertise and experience across GFF partners, reducing transaction costs, and increasing financial efficiency to create more effective instruments for mobilizing private capital at scale.
Over the last year, progress has been made in the development and early implementation of the GFF private sector strategy. The private sector is an important partner at both the global and country levels as a source of capital, technical expertise, capacity, and innovation, and it is a key partner for increasing countries' capacity for delivering on key elements of the health system.
Together with the World Bank Treasury, the GFF launched a series of issuances of Sustainable Development Bonds to raise awareness among private investors of the financing needed to invest adequately in the health and nutrition of women, children, and adolescents. The inaugural issuance of CAD 60 million was announced during the G7 summit hosted by the Government of Canada in June 2018, with continuing issuances since.
Through innovative financing instruments such as loan buy-downs and cofinancing grants, the GFF enables countries to access private sector capital at more affordable terms for RMNCAH-N, helping close the financing gap together with domestic resources, development assistance, and multilateral funding, all with a focus on results.
Learn more about the role of the Private Sector on the GFF website.
Learn More
Implementation, Learning, and Course-correction
The GFF links disbursements to results and shifts the focus away from inputs to outcomes, at all levels of the health care system. This is accompanied by a strengthening of governance and accountability, building capacity to manage public financing, and increasing transparency of continuous results monitoring.
Mozambique, for example, drives health system and finance reforms by linking disbursements to (among others) coverage of community health workers trained and active; institutional deliveries in priority districts; secondary schools offering sexual health and reproductive services; family planning; provision of nutrition interventions to children in provinces with the highest chronic malnutrition; health expenditures made in underserved areas; domestic health expenditures/total government expenditures; and deaths certified in health facilities with data on cause coded.
Starting by focusing on the health outcomes of the populations furthest left behind, the GFF model includes
elements to strengthen health information systems and increase the country demand for high-quality routine data, so that countries and partners can continuously course-correct based on both financial information and results data and achieve results at scale. The investment cases and their implementation are regularly reviewed and updated to ensure that prioritization and financing are addressing the shifting needs of the specific countries and their populations.
Among the main lessons learned from the initial GFF-supported countries are the need to strengthen coordination among partners and improve communication about in-country processes and milestones to enable all interested stakeholders to contribute throughout the design and implementation phases. Based on this learning, the GFF initiated the last round of 10 countries that joined the GFF partnership by inviting all key stakeholders to the launch and appointing GFF liaisons in each country tasked with improving communications about and transparency in the processes. The investment cases and the names of these GFF Government Focal Points are available on the GFF website.
Most importantly, GFF is working with the Partnership for Maternal, Newborn, and Child Health to support civil society organizations in their key roles and functions, building capacity and more meaningful engagement.
Results Monitoring
Since its launch in 2015, the Global Financing Facility (GFF) has pioneered country-led investment cases and companion monitoring frameworks. The GFF helps countries prioritize their activities based on sound data, adequately fund the highest-impact activities, mobilize their resources to ensure that investments are sustainable, and have underpinning systems that are also strong and sustainable.
Learn More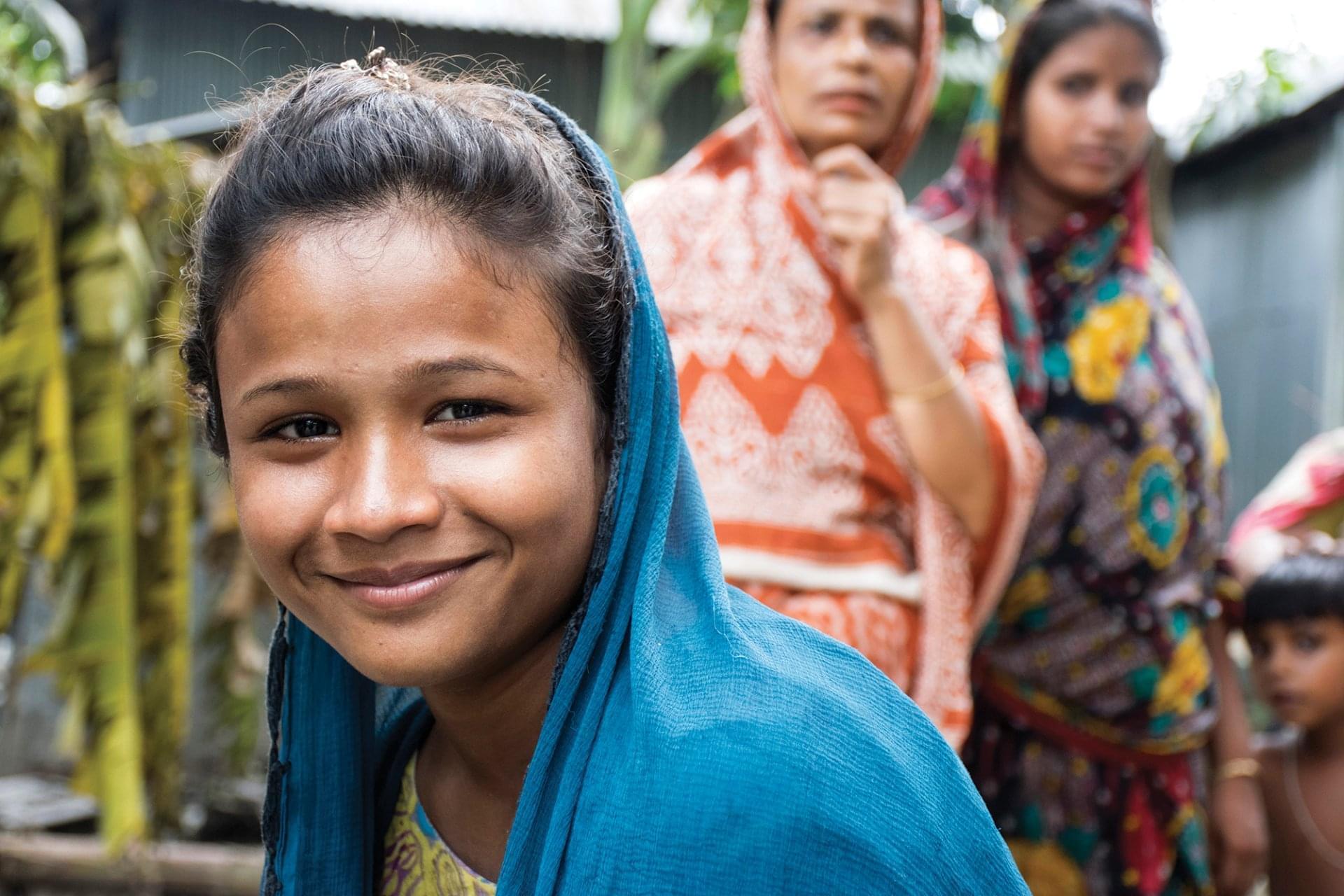 Counting and Accounting for Every Life and Death: Civil Registration and Vital Statistics
Many low- and lower-middle-income countries generally have poor civil registration and vital statistics (CRVS) systems, with low registration coverage of births, deaths, and other vital events and almost nonexistent recording of causes of death. Often they are paper-based. This limits access to the documentation required to establish legal identity, civil status, and family relationships and thus fails to protect the basic civil and human rights of individuals, especially women, children, and adolescents.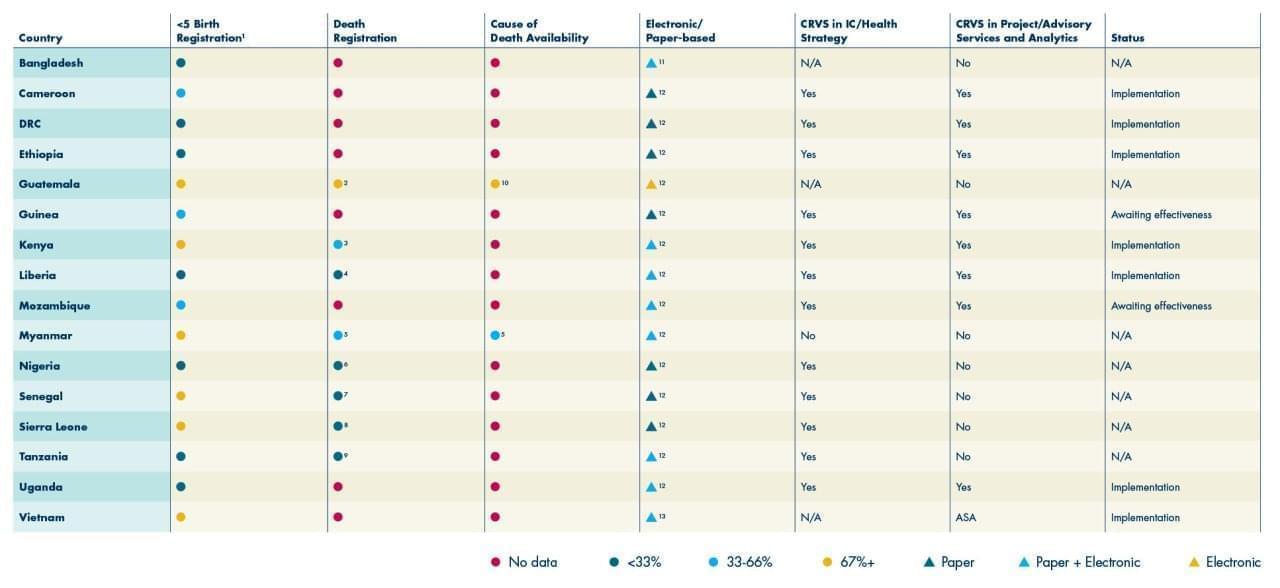 Financials
As of June 30, 2018, the GFF Trust Fund contributions are a total of US$807 million equivalent, of which US$620 million is committed for 31 projects in 26 countries. This amount is combined with an additional US$3.9 billion in IDA and IBRD financing. Regionally, 77 percent of the funding supports GFF countries in the Africa region, followed by 10 percent supporting South Asia, 9 percent supporting East Asia, and 4 percent supporting Latin America and the Caribbean region (see figure). As of June 30, 2018, 73 percent of all commitments have been Board-approved, and the remaining 27 percent are under preparation and scheduled for Board approval by December 2018 in FY2019 (see figure). The full list of the Board-approved projects is provided in the accompanying table. Regarding the financing of the projects under implementation, 24 percent have disbursed, which includes both IDA financing and GFF Trust Fund grants for projects that are effective.