Addressing the many factors that influence health outcomes
Michelle Bachelet Jeria, President of Chile, co-Chair of the UN Secretary-General's High-Level Advisory Group on Every Woman Every Child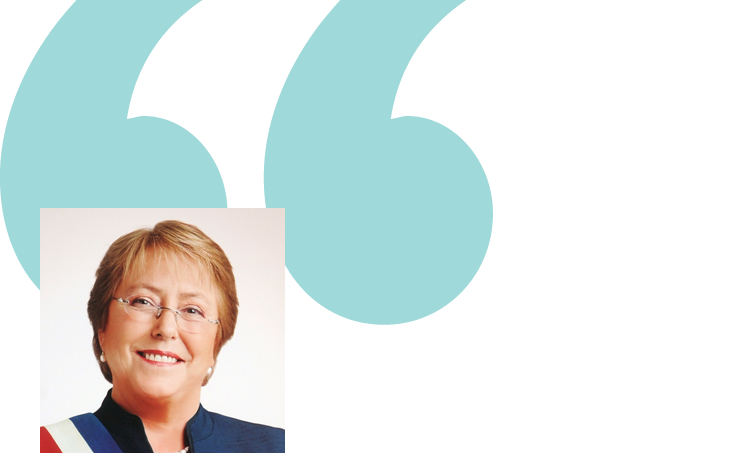 "The GFF has inspired an unprecedented commitment among countries, UN agencies and multilateral public- and private-sector financiers and civil-society organizations."
During the next decade the world will face the huge challenge of ensuring the health of women, children and adolescents. If we successfully meet that challenge, we will also ensure healthy and robust economies, politically stable societies and resilient communities.
At the United Nations Millennium Development Goals Summit in September 2010, United Nations Secretary-General Ban Ki-moon launched Every Woman Every Child. This puts into action the Global Strategy for Women's, Children's and Adolescents' Health (2016-2030), which, in turn, presents a roadmap for ensuring, within a generation, the well-being of the world's women and children and an end to preventable deaths.
The Global Strategy recognizes that social, economic and environmental factors influence health. It is therefore crucial that we move beyond health alone to include other sectors and constituencies that empower communities, civil society and young people. Our goal must be to end poverty and hunger, and, to achieve sustainable improvements, we must consider three critical dimensions: promoting inclusive economic growth, protecting the environment and promoting social inclusion.
Despite the strong gains of the past decade, child and maternal mortality remain unacceptably high. In low-income countries, maternal mortality is 30 times higher than in high-income countries, while child mortality is more than 15 times higher. Yet, the world has the knowledge, the means and innovative capability to close this gap. The Lancet Commission on Investing in Health documented the feasibility of doing so, and estimated that for each dollar invested, there would be a return of between nine and 20 dollars.
The Global Financing Facility (GFF) in support of Every Woman Every Child will support countries in a number of respects:
STRATEGIC INFORMATION
The GFF will strengthen the ability of national systems to collect health-related data, and civil registration records and vital statistics. By improving the quality and availability of data on every birth, marriage, death and cause of death, we will be better able to monitor and track investments and improve measurement and accountability. It is also essential that we follow up on commitments and assess progress made during implementation.
SOCIAL INCLUSION
Women, especially from indigenous and vulnerable groups, face inequalities and exclusion from full participation in societies. The GFF must ensure we invest in gender equality, empowering women and girls and helping them fully realize their human rights. Gender mainstreaming is vital (i.e. studying the implications for women and men of any action), including targeted actions and investments in formulating and implementing financial, economic, environmental and social policies.
RESILIENT HEALTH SYSTEMS
The GFF offers an excellent opportunity to align and mobilize more domestic and international resources, private and public, to build resilient health systems based on national plans and priorities.
We need to strengthen national health systems and primary health-care networks, scaling-up interventions and securing universal access to essential, high-quality health services for women, children and adolescents, wherever they live.
COUNTRY-DRIVEN COMMITMENT
At the country level, strong political commitment is needed, building on countries' experience, culture and the extensive work already carried out within existing plans and strategies. The GFF will play a key role in aligning other development partners and using the technical expertise of UN agencies. It will support countries in mobilizing additional domestic financing for health by leveraging domestic and international resources to implement country-specific plans that will further improve maternal, newborn, child and adolescent health.
PARTNERSHIPS
The GFF has inspired an unprecedented commitment among countries, UN agencies and multilateral public- and private-sector financiers and civil-society organizations. As a result, they have increased and aligned funding of countries' health priorities and plans, and driven transformative improvements in the health of women, children and adolescents.
We must mobilize private-sector resources to work alongside public-sector resources to help close the gaps in financing essential interventions. One remarkable GFF example is the World Bank Group's partnership with its International Bank for Reconstruction and Development (IBRD) to raise funds from capital markets for countries with significant funding gaps. The IBRD finances its lending activities by issuing bonds in the capital markets, leveraging its equity to bring in private-sector financing for sustainable development. The new GFF-IBRD partnership will mobilize the capital markets for better outcomes for maternal, child and adolescent health, by using the overall IBRD funding platform, issuing Sustainable Development Bonds with a health focus, and designing innovative risk-sharing structures.
Chile has experience creating innovative solutions to finance global initiatives. For example, by taxing airplane tickets it was able to help create UNITAID in 2006, which it is still supporting.
BUILD ON LESSONS LEARNED AND INNOVATION IN FINANCING
There's a wealth of evidence from the Millennium Development Goals era on how to make health-service delivery more efficient and equitable, using, for example, results-based financing and task-shifting.
The post-2015 era of the Sustainable Development Goals challenges the global health community to find innovative ways to finance and scale-up programmes. To succeed, we must build on lessons learned by Gavi, the Vaccine Alliance, and the Global Fund to Fight AIDS, Tuberculosis and Malaria. For example, we have learned that the majority financier in health is becoming – or in most cases already is – countries themselves. So, countries need to unlock domestic resources for health equity, through means such as improving tax collection, imposing sin taxes and creating sovereign wealth funds.
With more emphasis on domestic resources, the role of official development assistance should become more catalytic, targeting gaps. Our learning from public-sector initiatives and technological advancements provides a strong driver to unlock resources from the private sector. The public-sector stewardship role is paramount, but health systems tend to be pluralistic, and most countries will not achieve universal access through the public sector alone.
COOPERATION AND INNOVATION
Cooperation between agencies, regions and countries will be needed to ensure better use of financial resources, ensuring we don't duplicate efforts and instead build on lessons learned. By using advances in science, technology and networks to learn and improve together, and new approaches, such as South-to-South cooperation and technology, we can perform better.
To reach our 2030 goals, we need smart, scaled and sustainable financing, to provide countries with a smooth transition from traditional overseas development aid towards domestic financing. It will be critical to inspire political leaders and policy-makers to accelerate their work to improve the health and well-being of women, children and adolescents.
As Mark Suzman of the Bill & Melinda Gates Foundation said: "The decisions, investments, and policies we make in 2015 can accelerate progress in reducing maternal and child mortality worldwide and put countries on a path to self-sufficiency by 2030".
We look forward to working with countries as they develop their investment plans. They can count on our support in meeting the ambitious goals of the Global Strategy.