The Challenge
Rwanda has made remarkable progress in health over the past two decades. Maternal mortality has decreased, access to prenatal care is almost universal, and increased contraceptive use has resulted in fewer pregnancies. Yet, while more infants and children are surviving now more than ever, many children under five remain stunted. The Global Financing Facility (GFF) is supporting Rwanda's efforts to accelerate stunting reduction, build human capital and secure a healthier, more productive future for its children. Rwanda's approach to tackle stunting goes beyond the health and nutrition sectors to include social protection measures and strengthening civil registration and vital statistics. GFF's catalytic role helps maximize the impact of these investments to deliver a core package of diverse services to families that need them the most. This is translating into better nutrition for children and expanded access to services, particularly for the poorest families. In parallel, the GFF is supporting key policy and public financing reforms that are laying the foundation for sustained impact.
Remarkable Progress in Health but Chronic Malnutrition Persists
Rwanda has invested heavily in its health systems, improved access to primary health care and deployed tens of thousands of community health workers to the frontlines. These efforts have led to significant progress for the health of women, children and adolescents. For example, between 2000 and 2014, maternal mortality decreased by 80 percent. In 2014, over 95 percent of pregnant women received antenatal care and 90 percent benefitted from a skilled birth attendant. Family planning services are also widely available, giving women greater access to modern contraceptives. While Rwanda has also improved infant and child survival, childhood stunting remains stubbornly high at 38 percent. In the poorest families, it affects nearly half of children under five.
Maximizing the Impact of a Multisectoral Approach to Stunting
The Rwandan government, in partnership with the GFF, the World Bank, and The Power of Nutrition, developed an integrated national plan to combat chronic malnutrition. The plan, which also serves as the country's investment case, coordinates partners and sectors such as health, nutrition and social protection to deliver a core package of services for women and children. The plan focuses on high-stunting districts, vulnerable populations, and the critical early years of a child's life – beyond which stunting becomes largely irreversible.
The GFF is contributing a total of US$18 million to the plan. A US$10 million grant is linked to the US$25 million Stunting Prevention and Reduction Project financed by the World Bank's International Development Association (IDA). The project helps to reform the community health workers program and scaling up multi-sectoral interventions in 13 districts with high stunting rates and food-insecure households. Another US$8 million GFF grant is co-financing the World Bank IDA US$80 million Strengthening Social Protection Project to support innovations in social protection services and strengthening civil registration and vital statistics in 17 districts. The GFF is maximizing the impact of these investments through its support to identify priority interventions that reach the most vulnerable and align incentives among households, communities, service providers, and local governments. At the same time, GFF technical assistance is supporting strategic policy reforms, efficient and sustainable financing, and results monitoring.
Scaling up High-Impact Interventions
Through support to the social protection project, the GFF helped to establish and scale-up cash transfers to vulnerable families to incentivize the use of health and nutrition services. For example, direct cash transfers are linked to antenatal and postnatal visits and regular checkups to measure children's weight and height. In 2019, more than 20,000 beneficiaries in the poorest households were registered to receive cash transfers. An expansion in the eligibility criteria in 2020 enabled the program to reach 73,000 beneficiaries, including 12,000 pregnant women and 61,000 children under two. In partnership with the World Bank's Identification for Development (ID4D) Program, the GFF also supported the development of a national electronic payment system for cash transfers to significantly reduce transaction costs and increase efficiency. Based on these improvements, the Rwandan government has approved an expansion of the program to double the registered beneficiaries in 2023 and 2024.
GFF is also supporting the rapid expansion of a government program that ensures families receive key services in the early years. The program provides younger children in poor households with food, early stimulation and a play environment through well-trained caregivers and home-based early childhood development settings. By February 2020, over 25,600 early childhood development settings were active across all 30 districts of Rwanda. Around 216,000 caregivers were available to provide early childhood development services through these settings to children below the age of six. Through an upcoming human capital development project, the government is scaling up the number of these settings in each district to what is required for serving all families.
The GFF is also supporting innovative, low-cost and easy-to-use tools such as special mats, which help families monitor their child's growth and enable them to intervene early to prevent stunting. Since 2019, more than 15,000 mats were distributed to households from only around 1,000 in 2018 (NECDP). Also, more than 24,000 community health workers have been trained to use the mats and as a result, around 140,000 children aged 3 to 18 months were screened monthly for malnutrition.
Improving Service Delivery and Data Monitoring
The GFF is supporting Rwanda's community health workers – who are central to the country's plans to improve delivery for health and nutrition services. However, a lack of training, inadequate incentives and periodic shortages of commodities had previously limited their impact. The GFF is funding training, certification and accreditation, and strengthening the incentive payment systems. As of 2020, all 26,000 health workers in the 13 priority districts had been trained on maternal, infant and young child nutrition.
The GFF is also strengthening Rwanda's Civil Registration and Vital Statistics (CRVS) to increase birth registrations and ensure that beneficiaries can receive social services. With GFF technical assistance, the government has decentralized birth registration and made it simpler by amending a national law which assigns civil registrar functions to health facility officers to record births and deaths. In partnership with ID4D, GFF is also helping to improve information systems for more efficient enrollment of eligible families in the nutrition cash transfer program and for monitoring compliance. The upgraded CRVS system has now been linked to the nutrition program to make it easier for families to receive timely cash transfers they need to purchase food. To advance the implementation, more than 4,500 officials have been trained on the integrated system. The impact of these investments in stronger systems is clear: the first Rwanda Vital Statistics Report published in 2020 showed that birth registration was at 87 percent, with 78 percent of births registered on time in 2019.
Increasing Financial Efficiency and Sustainability
The GFF has also funded a nutrition expenditure review and used this information to help the Ministry of Finance set up and institutionalize a system to tag and track the budget allocated to nutrition. This is helping to improve spending efficiency, monitor performance and ensure that resources are targeted to the most vulnerable groups.
In addition, the GFF is helping to increase the efficiency of Rwanda's community-based health insurance scheme, a program that has historically played a crucial role in expanding access to healthcare and improving health outcomes. The GFF is focusing on making enrollment more equitable and that the poorest households do not fall deeper into poverty because of health expenses.
Progress on Expanding Children's Nutrition Services
Rwanda's renewed efforts to accelerate progress against chronic malnutrition are already reflected in early improvements in service utilization.
In 2019, about 315,000 more newborns across the country were breastfed within one hour of delivery, a 15 percent increase from 2018. For newborns delivered at health facilities 93.2 percent were breastfed within an hour of birth, a significant increase from 84.6 percent in 2018.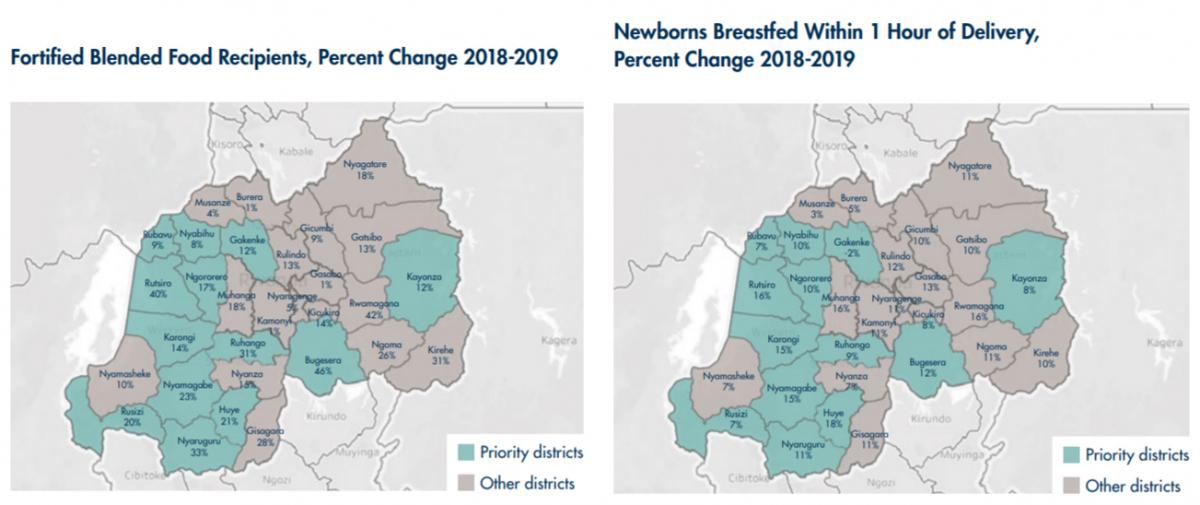 In 2019, almost 220,000 newborns were visited by a community health worker at home on the third day after birth, an increase of 17.6 percent from 2018. In priority districts, 21 percent more newborns were visited.
The number of children receiving fortified foods increased by 3.3 percent from 2018 to 2019. The expansion of the eligibility for receiving services in the 13 priority districts, resulted in an 18 percent increase in enrollment compared to a 3.7 percent increase in non-priority districts. The number of women receiving support increased 19.5 percent nationally and 54 percent in priority districts.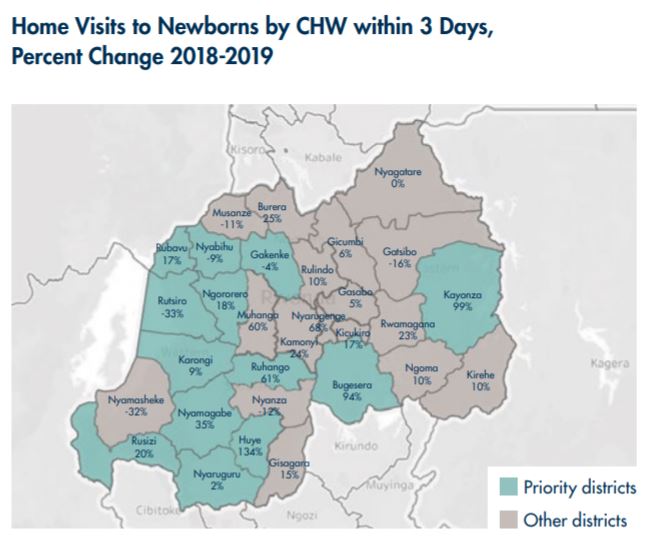 GFF SECRETARIAT CONTACT
LIAISON OFFICER CONTACT
---
RELATED DOCUMENTS
---
LINKS