In many GFF countries, private sector has an important role in delivering essential health services and products to women and children. Private capital flows currently dwarf official development assistance, so there is enormous opportunity to tap into private sector resources to improve reproductive, maternal, newborn, child, and adolescent health and nutrition outcomes. A critical element of financing for the development agenda is catalyzing greater private contributions with measurable outcomes, and developing private sector solutions for country priorities that complement public capacity, including through public-private partnerships and innovative financing.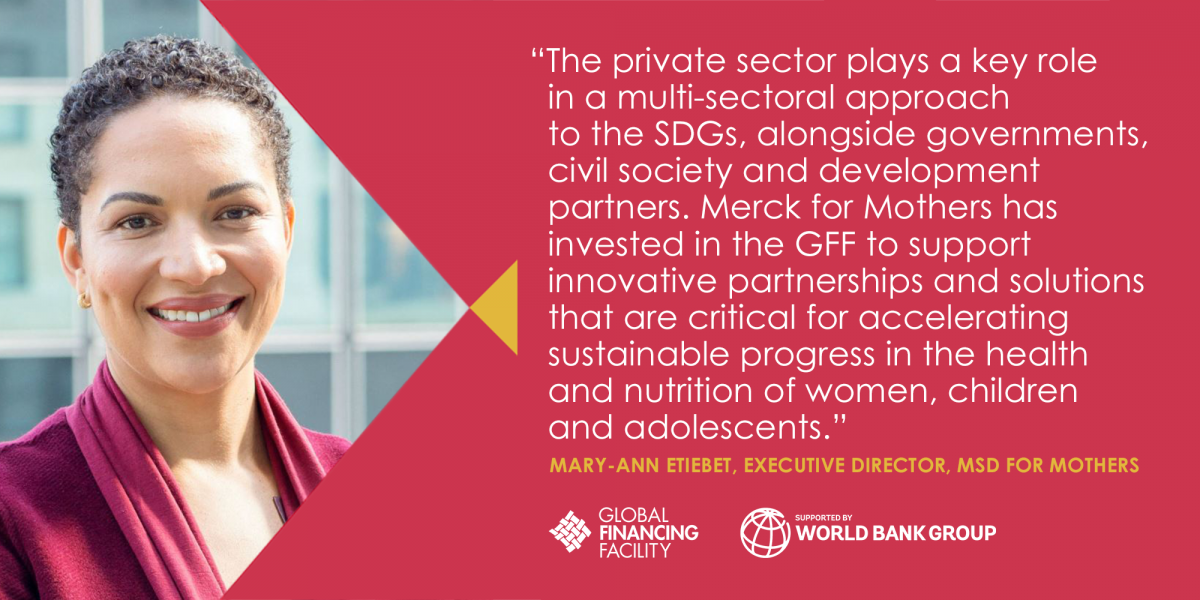 The GFF private sector strategy seeks to leverage private resources, capacity and expertise to improve the health of women, children, and adolescents by:
Catalyzing innovative financing mechanisms to crowd in private sector capital for women, children, and adolescents' health in GFF countries;
Facilitating partnerships between global private sector organizations and GFF countries; and
Leveraging private sector capabilities in countries to deliver on investment case objectives.
THE POWER OF THE PRIVATE SECTOR IN GFF COUNTRIES: NORTHEAST NIGERIA
In the Northeast region of Nigeria, ongoing conflict has left millions of people without livelihoods, schools, and access to health services: Under-five mortality is more than 50% higher than in the south of Nigeria and malnutrition rates are very high.
Nigeria has begun reestablishing health services with a focus on maternal, newborn and child health, nutrition, and psychosocial support and mental health. Following a successful pilot in four local government areas and 64 health facilities, Nigeria, with support from IDA and the GFF, is rapidly rolling out services to millions of Nigerians.
The project has engaged private sector firms and nongovernmental organizations to provide technical assistance and serve as verification agencies to quickly scale up much needed interventions. Funding and technical assistance provided through the GFF was key to the design of the project, the early results and the scale-up beyond the pilot—all of which are critical to quickly directing resources to fragile areas.