The Challenge
Since 2016, the Global Financing Facility (GFF) has been working with the Liberian government to address the country's most pressing health needs. Through the country's investment case, the GFF is helping to close gaps in service delivery and health outcomes for women and children by focusing available resources on six counties where progress has lagged. The investment case has helped to accelerate significant health improvements in those counties – 10 percent more children under two were immunized; adolescent fertility dropped by 14 percent; assisted deliveries rose by 24 percent; and the number of women receiving postnatal care increased six-fold.
Addressing Health Priorities in a Challenging Environment
Liberia is still recovering from years of conflict that ended in 2003. This troubled period was followed by an Ebola outbreak in 2014- 2016 that further eroded an already strained health system. With targeted support from the GFF and international partners, Liberia was able to reduce pregnancy among 15-19-year-old girls by 14 percent from 2013 to 2019.18 Improved nutrition programs led to a decline in stunting from 31.6 to 30 percent and wasting dropped from 5.6 to 3 percent. However, outcomes in maternal, child and neonatal mortality were disappointing: in 2013, maternal mortality was 1,072 for every 100,000 live births and between 2013 and 2019, under-five mortality decreased only slightly from 94 to 93 per 1,000 live births and neonatal mortality rose by 42 percent. Much more remains to be done, especially in counties where outcomes are lagging the most.
By 2017, household out-of-pocket expenses had accounted for almost half of Liberia's relatively high per capita health spending of US$57 (WHO-GHED), with external donors shouldering one third of this cost. At the same time, Liberia is struggling with large disparities in access to care, health outcomes and financing across its 15 counties. While efforts are underway to increase national spending for health in the long run, limited fiscal space poses a major challenge. This makes GFF's support for Liberia to promote effective coordination and prioritization of existing external resources more critical than ever to ensure women, children and adolescents have access to essential health care.
Promoting Equitable Access to Health Services by Closing Financing Gaps
While the Liberian government is supporting all 15 counties in the country, there are major health disparities across counties. The GFF has been supporting the government to develop an ambitious investment case that focuses on the six counties with the lowest health and nutrition outcomes – Gbarpolu, Grand Bassa, Grand Kru, River Gee, Rivercess, and Sinoe. This sharpened focus is to help provide the additional financing needed for key priorities in those counties: emergency obstetric and neonatal care, adolescent health, emergency preparedness, civil registration and vital statistics (CRVS), and community engagement and data-use for decision making. Complementing these efforts, a USAID-supported project is financing an essential package of health services in six counties to cover 1.8 million people with family planning, maternal and child health, and malaria prevention and treatment.
With domestic health spending severely constrained, the GFF helped the government to map resources and develop an action plan for increasing the efficiency of development assistance. The plan helped align existing resources to close the funding gaps for the priority areas outlined in the investment case. As a result, external funding commitments increased consistently over time, doubling over a three-year period from US$27million in FY2017/18 to US$30M in FY2018/19, and more recently to US$55 million in FY2019/20. In addition, the government has also increased domestic health spending as a share of public expenditure from 10.5 percent in FY2016/17 to 14.1 percent in FY2018/19. A forthcoming digital resource mapping and tracking tool will enable the government and partners to access real-time information on resource allocation and expenditures to aid policy decisions about directing funds where they are needed most.
The GFF is also providing technical assistance on longer-term health financing reforms through a US$16 million grant to back implementation of the investment case, linking this funding to the World Bank-financed Health System Strengthening Project. The focus is on building the government's capacity to reform and scale up strategic purchasing of services based on the performance of services providers. This is incentivizing expansion of quality services to underserved populations and increasing funding for the frontlines. In three of the six priority counties, payments to service providers are linked to performance on key maternal, child, and adolescent health indicators and service quality at both hospital and primary health care level.
Encouraging Health Outcomes
The sharpened focus on aligning resources around priorities has already helped improve health outcomes and service delivery and is narrowing the gap between lagging counties and the rest of the country. The GFF is now working with the government to scale up the successful performance-based model nationally. The Demographic Household Surveys 2013 and 2019 show some key positive outcomes.
Institutional Deliveries
Between 2016 and 2019, the number of assisted deliveries in health facilities increased by increased by 24 percent in the six priority counties (DHIS2). Nationally, assisted deliveries in health facilities rose by 43 percent between 2013 and 2019 (DHS).
Antenatal and Post Natal Care Between 2017 and 2019, the total number of women across the country who had four antenatal care visits increased almost five-fold (from 19,000 to almost 84,000) and tripled in the six priority counties (from almost 3,000 to more than 12,000).
The number of women receiving postnatal care by skilled birth attendants within 24 hours of delivery increased almost 6-fold from almost 16,000 to more than 100,000 nationally and from almost 2,500 to 17,000 in the six priority counties (DHIS2).
Childhood Immunization
Between 2016 and 2019, the number of newborns who were fully immunized increased by 20 percent across all counties (DHIS2). From 2013 to 2019, basic immunization coverage for children under two increased from 55 to 65 percent to reach 134,500 children (DHS). Still, more efforts are needed to bridge the gap, as only two priority counties had coverage above the national average.
Family Planning
Between 2016 to 2019, family planning visits increased by 60 percent (DHIS2). nationally. Only one priority county (Rivergee) showed progress in this indicator with the rest reporting a decline. Significant improvements were reported in counties supported by the USAID FARA program, which focuses specifically on family planning services.
Between 2013 and 2019, the contraceptive prevalence rate rose from 19 to 25 percent across the country and in all six prioritized counties. The highest increase recorded was in Grand Kru (25 percent), Grand Bassa and Rivercess (16 percent). Across the country, adolescent fertility rates dropped by 14 percent (DHS).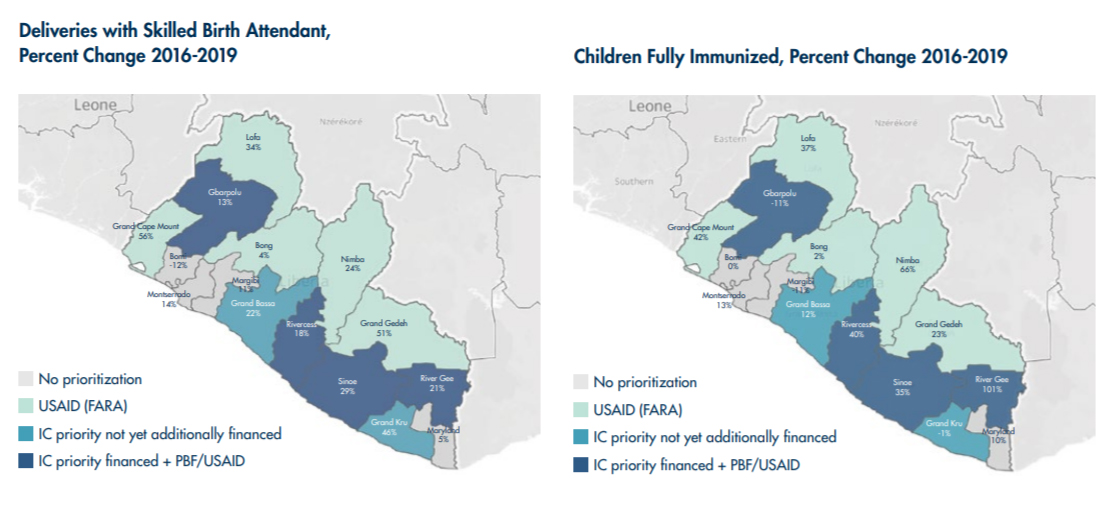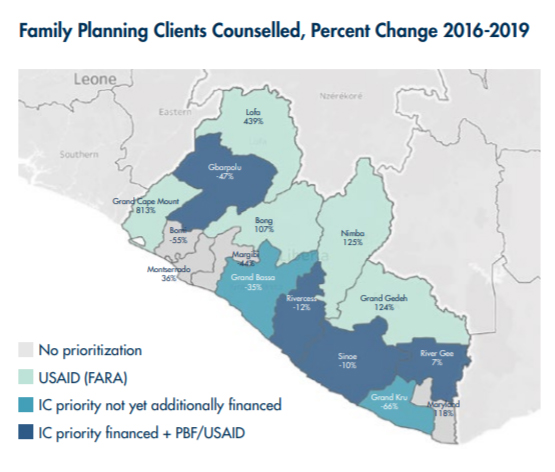 GFF SECRETARIAT CONTACT
LIAISON OFFICER CONTACT
---
RELATED DOCUMENTS
---
RELATED LINKS